By: Kehl Bayern – Staff Writer
Following trends when it comes to clothes can be a race few of us want to start running, but when it comes to accessories, all bets are off of the table. Immediately more accessible, and instantly timeless in many respects, top notch accessories can make or break an outfit and have a life well beyond when you purchased them. Maybe that's why jewelry tends to be one of the hottest accessories year in, year out, because there' a classic, timeless quality about them that carries over from season to season.
But that doesn't mean that there aren't trends in jewelry – there are, and we're going to tell you all about them. Like anything else in the fast-moving world of fashion, jewelry is subject to the whims of the market and this fall's trends are a bit of the old and a heady mix of the new. One thing we can promise you though is that these pieces will last well beyond this fall and winter 2019. In this article, we've narrowed it down to nine major jewelry trends that will absolutely dominate this season. There's a little bit of something for everyone and, like with any trend, there's definitely some stuff for the more bold among us.
Here are 9 top jewelry trends for fall/winter 2019 that we expect to dominate looks across Instagram and beyond:
9. The Punk Aesthetic
A lot of the 1980s is coming back into vogue, and one thing among them is the punk look. We're talking chains, spikes, leather, cuffs – you get the picture. The thing is, when it comes to jewelry, the punk look can be molded for some really, really cool looks. The main theme of this fall is a kind of late 1970s early 1980s punk aesthetic with multiple piercings, exaggerated earrings, and chokers to top it all off. If you recall Blondie's Atomic music video you will have some idea of what we are talking about here. What is pretty awesome about this look from a practical standpoint is that you can find some classic pieces to augment your look if the new stuff on the market is too expensive. As a look that comes into and out of the spotlight on a regular basis, you can probably add some true foundation pieces to your wardrobe in this style.
8. Acrylic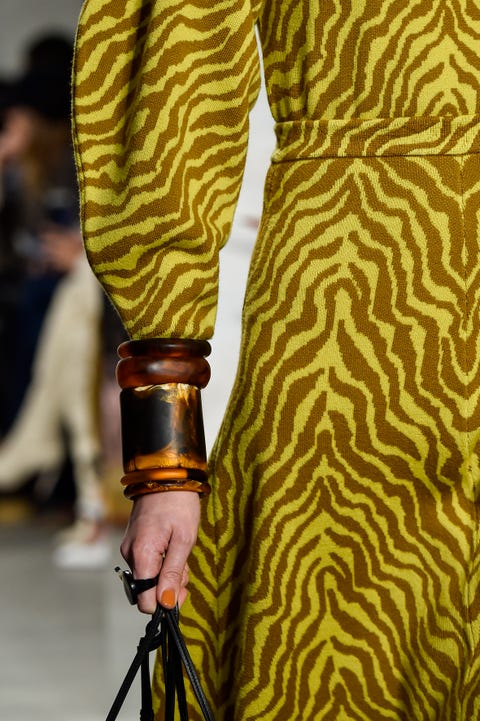 Acrylic jewelry is nothing new, but it's getting a renewed life among indie makers and big names alike. A trend that really took off this past summer season, acrylics are expected to continue their popularity this fall. What makes them so dynamic and amazing is that designers can really do anything they want to do with this material. Any pattern, shape, or look, as well as applicability to a range of accessory types, makes it a medium of choice for many jewelry makers out there. Another reason it might be coming back into prominence is because it is also really good for conveying dynamic, shimmery colors. Think sapphire blues and gleaming golds, among others. With the new 1980s chic becoming bigger every day, it's not shocking that statement jewelry made out of acrylics is becoming more and more common.
7. Logos are Back
For a while, logos were not in style. People had turned to a more minimalistic, even hidden, approach to advertising the brands they wore. But since everything glorious from the 1980s yuppie culture is coming back into fashion, so, too, are massive, bold logos that broadcast your tastes (or lack thereof depending on your opinion). When it comes to some uses, we really sign off on it wholeheartedly (think Versace's logo chain necklace and Chanel's understated earrings). Another thing we like about this trend is that it is something you can buy into or you can sit out entirely. And, just in case you're worried about all of that anti-logo rhetoric that dominated the early 2010s, an understated, inconspicuous deployment of the logo look is always in fashion. Don't be shy, let people know what you like in terms of fashion with a logo look that will be sure to be the envy of more than a few people.
6. Neons
Bold colors are always something to which you can turn in you need a dynamic look in a pinch, but this fall, expect them to become quite normal. We're talking neons like pink, yellow, and green but also jewel tones for those of us that don't want to look quite as fluorescent. The goal here is to tie an entire look together, not focus attention solely on your jewelry itself. As far as neons go, we're seeing a lot of earrings in unique materials with combined neons for really experimental but still retro looks. This is one of those trends where you can dictate just how much you want to participate but be warned that it is going to be that much harder to make a statement if everyone else is on board.
5. Rhinestones
Joining many trends on this list, rhinestones are a material blast from the past that are expected to be everywhere this fall and winter. And who doesn't want more rhinestones? The instantly glamorous though totally accessible gemstones are worn on everything from belts to earrings to necklaces and more. You name it, you can put rhinestones on it. If you combine this with the punk aesthetic you get a true time capsule of fashion. The best thing about rhinestones is how they can be used in either elegant, formal settings or in totally casual, street wear situations. In terms of what we've seen on the runway, it looks like rhinestones are set for a starring role this fall as the earring statement piece of choice. We're talking long, dramatic earrings with sparkly gems that play with the light.
4. Statement Earrings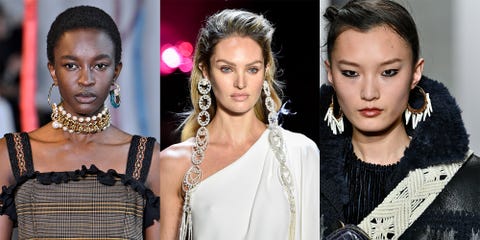 Again, calling this a trend rather than a perennial favorite is playing games with words but there's no doubt that statement earrings are back in a huge way. The preferred way to set off a look – whether for an evening out or something more casual – large, statement earrings are also all about conveying personality as well as personal style. Something new that we're seeing that hasn't really made its appearance in the mainstream is asymmetrical cuts and different, contrasting materials as well as extremely long pieces. There's probably no easier way to make a statement than to have long pearls draping from your ears and it's a trend we have to say we'd like to see a lot more of in the near future.
3. Big Chains
Statement earrings, and statement chains – sensing a theme here? Everything big is glorious this fall as we delve deeper into the 1980s rock glam that is getting renewed life as a melding of chic elegant evening wear with everyday pieces. Big chains in gold or silver are dominating necklaces this fall but also some earrings as well. One mesh creation from Alberta Ferretti combines the statement piece trend with the chains wave for a creation that, while it doesn't look comfortable, looks amazingly unique. It's a look that could be used either way, too, and you know how much versatility matters when it comes to purchasing accessories.
2. The Return of Parisian Chic
When it comes to an elegance that manages to be both understated and undeniably elegant at the same time, Parisian jewelry is known for its layering, gold, and bold cameos and pearls. One of the best things about Parisian jewelry is that you can keep it very minimalistic or pair it with edgier pieces for a kind of goth chic. There are a lot of different directions you can go with Parisian jewelry and the best thing of all is that these classics are not going to go out of style anytime soon. We imagine that a lot of these accessories would see air time in elegant evening outings or other occasions that require a more formal attitude, but you can also attempt to dress down this type of jewelry with understated tones of layered fabrics perfect for autumn. What designers are going all in for this look this fall and winter? Think traditional Parisian houses Dior and Givenchy, for starters, but you can expect to see this look more widespread among other fashion houses as well.
1. Small Pieces
What Vogue has lovingly called trinkets and what stores will likely call small pieces, we're talking brooches, pins, clasps, and other small, singular pieces that can be used in novel ways to help cinch a look together or give it a subtle highlight. One of our favorites, and one that goes well with the punk, statement, and chains trend as well as the overall 1980s revival is that watch band bracelet. What makes small pieces particularly fun is that it is a chance for you to let a little bit of personality shine through in your outfit and they're also completely transferable usually between seasons and even for years to come.